Important updates:
July 3, 2020: The Research Day is officially cancelled for 2020 due to the impossibility to hold the event on site before the end of the year. All sponsors will be contacted and reimbursed. We would like to thank Lauren Nagel and Tho-Alfakar Al-Aubodah for their hard work and dedication in preparing this Research Day, it would have been one of the best editions. We are looking forward to seeing you in 2021!

March 13, 2020: Please note that the IDIGH Research Day planned on April 17, 2020 is postponed due to the restrictions imposed  by the coronavirus propagation. Our trainee committee was ready to hold the event and we received high quality research abstracts. For this reason, we hope that we will be able to find an arrangement with our sponsors and other people involved to postpone the event instead of cancelling it.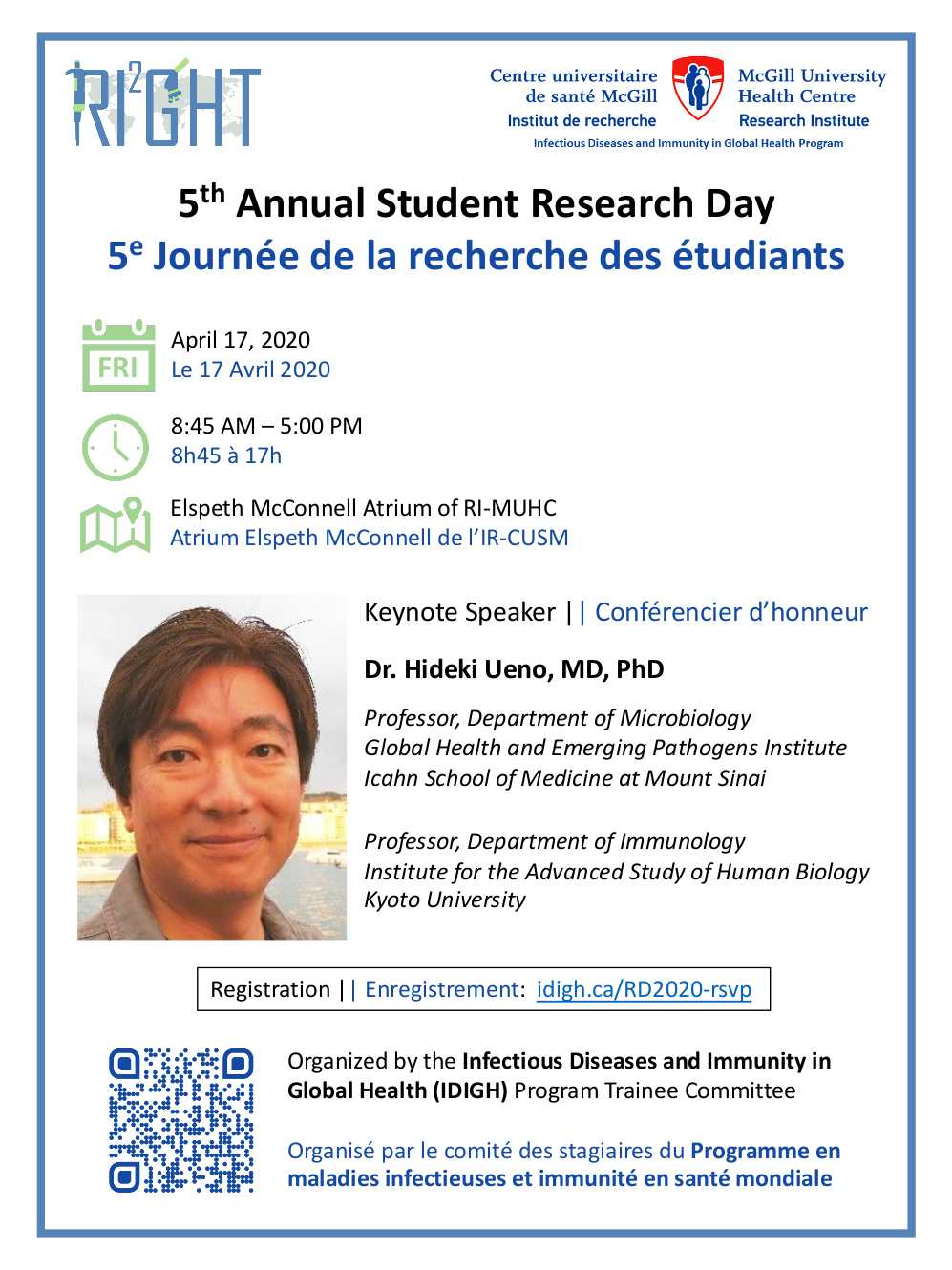 The IDIGH Research Day is a trainee-led initiative hosted at the RI-MUHC that brings an audience of 150 IDIGH scientists, clinicians, post-doctoral fellows and graduate students who work in basic and clinical research in infectious diseases, immunity and global health. The event provides a forum for all IDIGH graduate students and post-doctoral fellows to showcase their most recent research findings in the form of oral and poster presentations that facilitate discussions among our groups. 
Keynote Speaker
Hideki Ueno, MD, PhD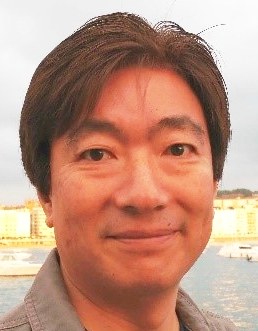 Professor
Department of Immunology
Graduate School of Medicine, Kyoto University
Primary Investigator
Institute for the Advanced Study of Human Biology, Kyoto University
http://labs.icahn.mssm.edu/uenolab/dr-ueno/
---
Hideki Ueno, M.D, Ph.D. is a Professor at the Global Health and Emerging Pathogens Institute in the Department of Microbiology. With more than 15 years experience in human immunology, Dr. Ueno's research focuses on the human adaptive immune system –  the major immunological protection mechanism in charge of generation and maintenance of antigen-specific immune responses. The major research topic in the past decade in the Dr. Ueno Laboratory has been the biology of human T follicular helper (Tfh) cells, a CD4+ T cell subset fundamental for the generation of antibody responses. His laboratory has identified functionally distinct subsets within blood circulating Tfh cells in humans. This seminal work has been cited more than 600 times. This work has led to their identification of cTfh1 cells in charge of antibody responses following seasonal influenza vaccination. The Dr. Ueno laboratory also identified multiple key factors and pathways promoting the differentiation of human Tfh cells, including the IL-12-STAT4 axis.
Schedule
Time
 
Event
8:45
to
9:30
 

Registration and poster setup

Collect your name tag and door prize sponsor sheet* 

9:30
to
9:45
 

Introductory remarks - TBA

 

9:45
to
11:00
 

Oral presentations 1

4 speakers

11:00
to
11:30
 

Coffee Break 

11:30
to
12:15
 

Keynote speaker – Dr. Hideki Ueno

Title to be announced

 

12:15
to
12:45
 

3-minutes thesis

5 speakers 

12:45
to
1:30
 

Sponsor product show, lunch and poster visits

Visit, collect stamps and enjoy refreshments 

1:30
to
3:00
 

Poster judging and booth visit

Discuss with trainees and learn more on their projects

3:00
to
4:15
 

Oral presentations 2

4 speakers

4:15
to
5:00
 

Closing remarks – Lauren Nagel and Tho-Alfakar Al-Aubodah (co-president of the IDIGH trainee committee) 

Awards and door prizes

5:00
to
6:00
 

Networking cocktail

Mingle among your colleagues!
*To be eligible to win one of many exciting door prizes, you must visit at least 10 vendor booths and collect a stamp form each of them. Once you have a minimum of 10 stamps, return the stamped sheet to the registration desk and you will be entered in the door prize draw. Good luck to all who participate!!